KRE Electric is an authorized distributor of the following products.
CND CONTRACTOR SPECIALS
click here to download pdf flier
Checker Cable Mats
5-Channel Heavy Duty Cable Mats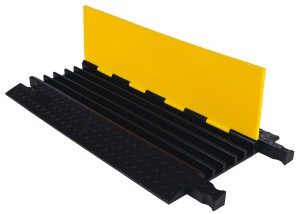 The Yellow Jacket cable mat features 5 cable channels and a heavy duty frame to house and protect your cables. These mats are designed to protect cables up to 1 inch in diameter, and the Dog Bone connectors allow you to link multiple mats together to make them as long as you'd like, depending on your site's needs.
5-Channel Yellow Jacket ADA Cable Protector